Are you tired of struggling with training your dog?
Do they seem easily distracted or unmotivated to work with you?
Do you want to achieve clarity in your training scenarios?
You want to know how to train in loops and understand errorless approach?
I understand your frustrations, and that's why I've created this comprehensive guide to help you overcome these challenges.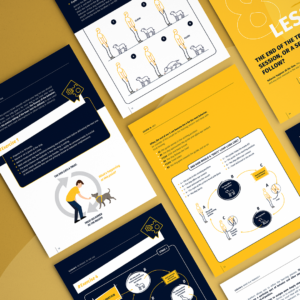 In my e-book, we dive deep into the concept of FOCUS. You'll learn what focus is, how to recognize it, and most importantly, how to teach your dog this essential skill.In my experience, most caregivers experience issues during training because they have not taught their dogs the attention contingency – our "focus bubble." We can't teach anything if our animals don't have the necessary skill of how to learn.
If your dog looks around during training, sniffs, doesn't respond to your recall, looks at you instead of circling the cone, or is interested in everything around them but you – this e-book is for you.
What will you gain from our e-book?
•Start and end training sessions effectively.
•Define focus behaviors and use clean loop and errorless progression techniques.
•Teach your dog to wait for cues.
•Build both easy and complex training scenarios.
•Understand behavior chains and create the perfect training environment.
•Make your dog choose to work with you, even in the presence of distractions.
Plus, if you're considering competing, we've got you covered with exercises to get you started on the right track. And here's the best part – our methods are not limited to dogs! They work for various species, from cats to horses and even hamsters.
Don't let training challenges hold you back. Be the best trainer your dog can have! Get your copy of this e-book and start seeing real improvements in your dog's behavior and performance today.