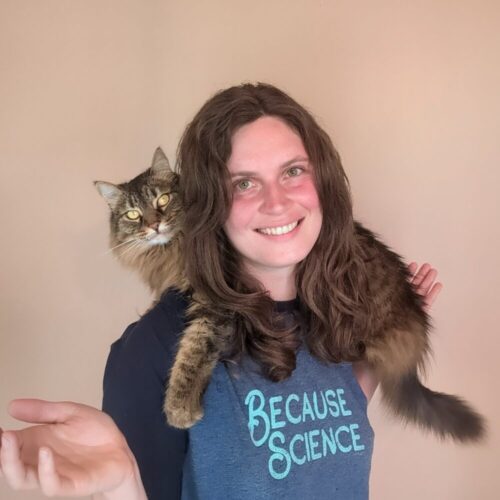 Miranda Hebert
Hi, I'm Miranda; a Neurodivergent (Autistic/ADHD) multi-species animal training & behavior aficionado. The science of behavior and it's applications with animals has been my lifelong 'special interest,' beginning hands-on in 2006 raising & training my first dog in agility. Since then I've gone on to work with dogs in various training & behavior consulting capacities, specializing in cases of aggression for several years. Over time I expanded my work into other species and always look forward to getting to add more to my list! Presently the work I do revolves primarily around dogs, cats, and horses, having also worked with rodents, rabbits, parrots, and pigs too!
Having working relationships with animals who are independent and confident representatives of their species yet choose to work cooperatively together will always have my heart. Everything I do with animals is founded heavily on the promotion and support of such agency. I spend most of my time hands-on working with animals with traumatic learning histories, putting in the time & effort it takes for them to learn it's safe to trust that they only have something to gain and not lose as the foundation for reaching heights of relationship & behavior capability simply unattainable when relying on force/fear. 'Existing separately together' is my favorite form of relationship with any animal and a thing of immeasurable beauty. It's these types of 'uncanny' relationships between humans and animals most often portrayed in popularized media as I grew up with, and through science and out of respect for animals for their uniqueness learned to achieve.
I have been a consultant/coach and educator for human learners now for the past 10 years and I take seriously the promotion that ANYONE can learn to achieve such powerful relationships with animals, if they so desire. My solo operating name, 'Animal Empowered,' comes from the holistic life experience I've had of becoming empowered in life from the lessons I've learned in application with and from animals I use to empower them in return. It is my mission to spread the same empowerment to others so that they may benefit from and go on to do the same.
• Certified Professional Animal Trainer - Knowledge Assessed (CPAT-KA) accredited by the International Animal Trainer's Certification Board
• Fear Free Certified Professional (Animal Trainer) by Fear Free Pets
• 600+ hours of ongoing education and counting
• Enrichment Framework for Behavior Modification Master Class - Pet Harmony (Allie Bender CDBC, SBA/Emily Strong CDBC, CPBT-KA)
• Aggression in Dogs Master Course - AggressiveDog.com (Michael Shikasio CDBC/Dr. Christopher Pachel DVM, DACVB/Kim Brophy CDBC)
• Dog Trainer Certificate Program, all courses & exams - DogNostics (Louise Stapleton-Frappell BA, PCBC-A)
• San Diego Zoo Wildlife Alliance Academy, All Courses (in progress)
• Certified Professional Canine Fitness Trainer (CPCFT) program (in progress) - Dr. Debbie (Gross) Torraca DPT, MSPT, CCRP